Biography/ Discography
The Grizz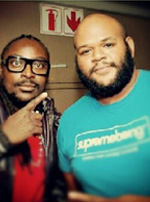 I was tutored by Newton September (The Funky Buddha) to mix / DJ in 2011. I managed to obtain a residency at the club, The Funky Buddha Paarl and have been playing there since 31 Dec. 2011
2012 has been an interesting year thus far. On the 28th of March I appeared on Tyrone Paulsen's show, The 411, at the Goodhope FM studio and will be doing another live mix on the 15th of Dec. as part of the 411 Best of 2012 edition.
Connecting with the Native Rootz guys (Eugiene Carr & Chad Naidoo) I have had the opportunity to be on the line up at 2 successful events (Nate Laurence live & JACKd) which they hosted. The highlight for me was sharing the stage with and meeting Nate Laurence (DJ / Producer) from Minneapolis who is truly an inspirational person. I list of famous DJs I've opened for includes: DJ Fresh, Ready D, DJ Kent, DJ Waxxy,
Euphonic to name a few.
A list of clubs I've appeared at includes: ZAR Cape Town, The Sugarhut Club, Peter Cellars, Inside Lounge Kenilworth.
I would describe my deeper / soulful sound as bass heavy with melodic keys and strong vocals to round it off where the Jackin side is more up tempo and in your face house. I'm currently working on a few productions that will hopefully be done close to the end of 2013.
Music Styles / Genres
Deep House, Deep Soulful / Soulful House, Jackin House
Special Events
Native Rootz Entertainment presents: "We Go Deep"
JACKd Summer Day Party @ Sugarhut
Apprearences
The Sugarhut Club
ZAR Cape Town
Peter Cellars
Amadoda Braai
Inside Lounge
Current Residencies
The Funky Buddha Paarl
Preffered Set-Up/Equipment
Pioneer CDJ 900 / Pioneer DJM700
- See more at: www.skynetsg.co.za/brandon-phillipus-aka-thegrizz
Welcome: You are visitor no#

Our Location




c/o of Lady Grey Street and Berg River Street, Odeon Centre, Paarl.

Latitude: -33.73068637670408
Longitude: 18.971621340060665

Hours




Doors open 20:00 -

till late.

Our email contact list:


Enquires:
email us

VIP bookings:
email VIP

Advertising:
email us

Book the venue/ club:
email Bookings


Subscribe to us to get WhatsApp,
SMS & email updates of all future events? register here.