Biography/ Discography
DJ Ready D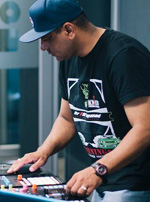 DJ Ready D is a South African hip hop DJ and turntablist best known as the DJ for breakthrough hip hop group Prophets of the City in the 1990's.
He won the South African DMC Championship four times and also won the DJ of the Decade award. Various publications rated DJ Ready D amongst the top 30 hip hop DJs in the world.
Best known as the DJ for (POC) Prophets of the City, DJ Ready D toured Europe extensively with POC for a period of six years and performed alongside groups like Public Enemy, Fugees, Ice T, Spearhead, James Brown, Rob Swift, Steve D, Will Smith, Black Eyed Peas, DJ Spinna, Jazzy Jeff, etc.
Apart from performing in clubs, DJ Ready D took the art of hip hop DJing into many areas where it was unknown, including big music events around South Africa such as the Ice Festival, Synergy, Camel Experience, Oppikoppi and the KKNK Festival (a week-long tour into rural and underprivileged areas where most of the community do not have electricity), Woodstock Festival, Alex Groll International Inline Skating Championships, Redbull Downhill Extreme Champs, Grahamstown Jazz Festival, North Sea Jazz Festival and various trade and expo shows.
DJ Ready D played at the Presidential Inauguration of Nelson Mandela and the Quincy Jones Montreux Jazz festival in Switzerland. DJ Ready D also appeared alongside POC in the movie Dangerous Ground, starring Ice Cube and Liz Hurley.
DJ Ready D was also Master of Ceremonies, DJ and producer of the group Brasse Vannie Kaap and also reviews DJ equipment and writes DJ advice for music magazines.
Highlight Performances
1991
Drug Awareness School tour with POC, reaching 450,000 students
1992
South African Tour. Performances in prisons, schools, universities, primary and high schools, clubs and community centres, touching on issues such as gang violence, drugs and AIDS.
1993-1994
Voter Education Tour. Informing people all over South Africa on how and why they should vote in our first democratic election.
1995
P.O.C. officially banned in South Africa and the group records in London and tours all over the UK, Western Europe, Scandinavia, Ireland and Scotland. Performances included facilitating workshops on Hip Hop culture and life in South Africa.
1996-1999
P.O.C. are invited to be part of an event called Right to Hope which deals with issues on trouble spots around the world. It was a coalition between Northern Ireland, South Africa, the Middle East, Rwanda and the USA.
2000-2001
DJ Ready D helps to establish and organize a monthly Hip Hop event called The Night of the Beatbangaz that gives up-and-coming unknown DJs and Hip Hop artists a platform to expose and express themselves. Workshops and life in South Africa continue.
2002-2004
DJ Ready D becomes the resident DJ on The Phat Joe Show, a weekly television series on SABC1.
2005-2005
DJ Ready D consults and becomes guest editor and contributor to South Africa's first mainstream Hip Hop magazine – Hype Mag.
2007
Presenter and creative director for TV show Mzanzi Ridez that goes out across Africa on DStv's Channel O.
2007
Redbull B Boy Champs, presenter of his second TV show – Decktales with DJ Ready D – that goes across Africa. The show takes DJ Ready D to New York to perform and interview Hip Hop Legends such as Rob Swift, Steve D, Charlie Ahern, Roxanne Shante, DJ Rockin Rob and Ken Swift.
2008
DJ Ready D receives the Hype Magazine Life Time Achievement Award. Support DJ for Akon, Fat Joe and Black Violin in Cape Town and Dubai. Performed alongside Sean Kingston. Mzanzi Rides Season 3. DJ Ready D help propel Drift Squad to center stage.
2009
DJ Ready D and Dr1ft Squad host Wheelz of Fury – A prolific urban life style and motoring festival featuring world stunt motorbike champ Christian Pfeiffer, SA trial bike champ Brian Kapper, and South Africa's best spinners DJ's and Hip Hop Dancers.
2010
DJ Ready D gets his own radio spot – The Ready D Show on Cape Town City's Major Station Good Hope FM – Monday to Thursday 7pm – 10pm.
DJ Ready D – Launch The Ridez and Vibez Park – off linked to his radio show and attract 8000 people – making this one of the biggest gatherings for an outside broadcast. DJ Ready D is awarded with the Grandmaster award – it's the highest honour an artist can receive in Hip Hop. DJ Ready D and Dr1ft Squad launch Dr1ft Nights (Nightsliderz) and Dr1ft X – a new technical competition in the world of Drifting and Urban lifestyle entertainment.
The legend in action - Ready D - (1:12 teaser) Kinky Afro LIVE on Good Hope FM
Welcome: You are visitor no#

Our Location




c/o of Lady Grey Street and Berg River Street, Odeon Centre, Paarl.

Latitude: -33.73068637670408
Longitude: 18.971621340060665

Hours




Doors open 20:00 -

till late.

Our email contact list:


Enquires:
email us

VIP bookings:
email VIP

Advertising:
email us

Book the venue/ club:
email Bookings


Subscribe to us to get WhatsApp,
SMS & email updates of all future events? register here.