Biography/ Discography
Profile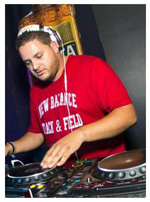 LuWayne Wonder, made a name for himself in the DJ Industry as a technically sound, quality mixer, crowd reading, versatile DJ. LuWayne Wonder specialises in audio and visual engineering and spins the hottest tracks at elite nightclubs in Cape Town and all around South Africa.
LuWayne also gets frequent requests to play at prestigious events i.e. The Cape Town International Jazz Festival, The Cape Town light Festival including the once in a lifetime opportunity given to him to perform at the 2010 FIFA Fan Fest in front of 20k + fans during the FIFA World cup.
This veteran DJ have also wowed listeners on air for years, where he started out as a resident mix show DJ on UCT Radio (104.5fm) hosted by Ashton Abels. He then moved onto securing a resident set on Good Hope FMs "That Radio Show" hosted by Ebrahim Inglis every Monday night for 3 years. This led him to land his own presenting slot, Wednesdays on Good Hope FM's Mix Revolution, and since moved on to securing his own show called Wonder Nites with LuWayne Wonder on Good Hope FM.
Former Clubs: Hanover Street, Bunker 9, Lambego Lounge, Strata Lounge, Galaxy, Living Room, Vacca Matta, Ignite, Barmooda, Cybar, Vertigo and Lush Cosmo Lounge, Casablanca, 91, 169 on Long, Chrome, ZAR, Coco and St Yves to mention a few…
Other Clubs: After Dark, Numbers (East London), Roka Lounge (Johannesburg), Vacca Matta (Monte' Casino), Casa Blanca (Fourways), Tha Bank (Rosebank)
————————————————————————-
Participated in:
2007 UCT Rumble in the Jungle DJ battle
2008 Hennessy DJ Competition
2009 South African DMC DJ Championship Finals (Top 6)
2012/2013 Best Club DJ Winner
2013/2014 Best Club DJ Runner Up
————————————————————————-
Judged:
2010 South African DMC DJ Championship Finals
2011 Red Heart Rum Deck Wrecking DJ competition
2013 Red Heart Rum Deck Wrecking DJ competition
————————————————————————-
Years In Industry: 13
Genre: RnB / Hip Hop
Influences: All DJ's in SA and internationally inspires me but there's a few in particular: Ready D, DJ Willy, CODAX, DJ Lyle (Ama-Kings), p.H, Qbert, Grimehouse and many more.
Hometown: Cape Town, South Africa
Current Location: Cape Town
Welcome: You are visitor no#